BITTER WHEAT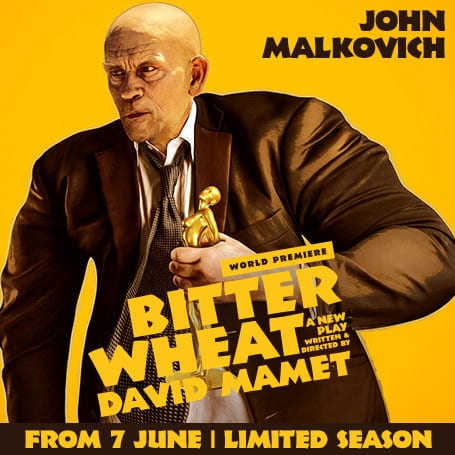 Performed at the garrick Theatre between 07 Jun, 2019 and 21 Sep, 2019
Bitter Wheat by David Mamet
Hollywood is a hell hole.
Everything in Hollywood is for sale except the awards, which are for rent.
Bitter Wheat is a play about a depraved Hollywood mogul.
It rips the pashmina off the suppurating wound which is show business, and leaves us better human beings, and fitter to once more confront the horror of life.
Our hero, Barney Fein, is a bloated monster – a studio head, who like his predecessor, the minotaur, devours the young he has lured into his cave.
His fall from power to shame is a mythic journey which has been compared to The Odyssey by people who claim to have read that book.
A new play starring John Malkovich in his return to the stage after 33 years, written and directed by David Mamet in a good mood.
Funnier than The Iceman Cometh – more chaos than Richard III, and without all the stupid, so called 'poetry'.
Money, sex, power, you only need one of them to see Bitter Wheat – at the Garrick.
'Skin-crawlingly magnificent. I was absolutely riveted to my seat.'
Mail On Sunday
'Malkovich is rightly revolting in Mamet's furious take on Hollywood'
The Sunday Times
'I could have watched this captivating freak-show until midnight and beyond'
The Spectator
CAST
John Malkovich
Barney Fein
Ioanna Kimbook
Yung Kim Li
Matthew Pidgeon
The Writer
Zephryn Taitte
Charles Arthur Brown