BLIPPI THE MUSICAL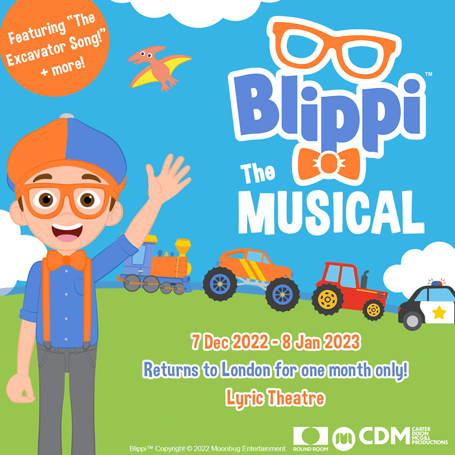 Performed at the lyric Theatre between 07 Dec, 2022 and 08 Jan, 2023
BLIPPI RETURNS TO THE WEST END THIS CHRISTMAS!

Blippi The Musical brings the curious and fun character Blippi off the screen and onto the stage with world-class production, audience engagement and amazing music. Blippi encourages learning for children from the ages of 2 to 7 years old through doing, playing and exploring – inspiring a child's natural curiosity about the world around them. In the live show they will continue to learn about the world around them while singing and dancing along with this one-of-a-kind show.
After selling out this Summer, don't miss your chance to see Blippi The Musical on stage this Christmas!
Post-show Meet and Greet photo experience with Blippi!
£20 per person wishing to meet Blippi, subject to availability.
See the links below to book the Meet and Greet photo experience.
A photo experience ticket must be purchased by a Parent/Guardian along with the child's ticket. Children are not allowed access without a photo experience paid adult. Photo experience tickets are not tickets to the show. Photo Experience ticket holders must have a separate show ticket to have access to the show and the photo experience.
Note for audiences:
For Blippi The Musical, the character Blippi will be played by professional stage performers selected specifically for the stage show.
Book tickets for performances between 3 – 6 January and receive a free Blippi item with each ticket!