EMILIA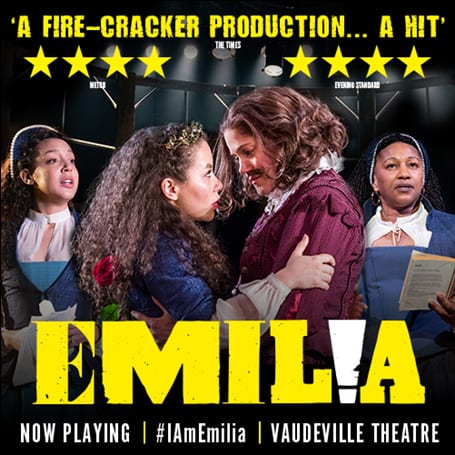 Performed at the vaudeville Theatre between 08 Mar, 2019 and 01 Jun, 2019
"A GLORIOUS BLAZE OF PASSION AND FURY… RICHLY FUNNY" (The Times).
1609. I AM EMILIA.
WRITER. WIFE. LOVER. MOTHER. MUSE.
400 years ago Emilia Bassano wanted her voice to be heard. It wasn't. Could she have been the "Dark Lady" of Shakespeare's sonnets? What of her own poems? Why was her story erased from history?
Emilia and her sisters reach out to us across the centuries with passion, fury, laughter and song. Listen to them. Let them inspire and unite us.
Celebrate women's voices through the story of this trailblazing, forgotten woman.
Stand up and be counted.
2019. WE ARE EMILIA.
Shakespeare's Globe's "EXTRAORDINARILY ROUSING NEW PLAY" (The Independent) which met with "WHOOPS, CHEERS, BELLY LAUGHS, A STANDING OVATION" (Time Out), now explodes at the Vaudeville theatre. An all-female cast playing both hers and hims rouses "AUDIENCES INTO A PITCH OF FERVOUR"(The Guardian) in a "MAGNIFICENT PRODUCTION" (The Stage) filled with "WIT, FIERCE INTELLIGENCE AND HEADY INTENSITY" (The Times).
'A fire-cracker production... a hit'
The Times
'Heartfelt and crowd pleasing'
Evening Standard
'Told with verve and energy... a stirring show'
Metro
'Morgan Lloyd Malcolm's play roars into the West End'
The Stage
'It rouses the audience right to their feet'
Time Out
'Highly entertaining' 'very funny'
Daily Telegraph
'A fantastic mix of laughter and fury – just one of the best things I have seen in years'
Sandi Totsvig
'It's brilliant, it's joyous, it's beautiful, it's Blackadder funny'
Caitlin Moran
'A knockout show, so funny and incredibly moving'
Mark Rylance
'It's Saturday Night Live meets William Shakespeare'
Fiona Shaw
Creatives
Morgan Lloyd Malcolm
Writer
Joanna Scotcher
Set & Costume Designer
Anna Morrissey
Choreography and Movement Direction
Zoe Spurr
Lighting Designer
Emma Laxton
Sound Designer
Yshani Perinpanayagam
Musical Director
The Times Article March 2019
Emilia at the Vaudeville Theatre, London preview
A play inspired by a feminist Tudor poet is coming to the West End. Jonathan Bate separates the facts from the fiction
Jonathan Bate
March 2 2019
The Times
Who was Emilia Bassano? Was she really the Dark Lady of Shakespeare's sonnets? The playwright Morgan Lloyd Malcolm tells us in the preface to her new play, Emilia, that "it isn't an accurate representation of Renaissance England, it isn't a historical representation. It is a memory, a dream, a feeling of her."
That's as it should be for a piece of theatre that uses the past to speak to the present. However, before seeing the Globe production at the Vaudeville Theatre in London, many audience members will want to know how much of it is true and how much is fantasy or speculation.
Baptised Aemilia, she was born in Bishopsgate in 1569, the daughter of an English woman and a Venetian musician called Baptiste Bassano, who held an appointment at the royal court, where Queen Elizabeth demanded a constant diet of musical entertainment.
Baptiste died when Emilia was seven, at which point she had the good fortune to be taken into the household of Susan Bertie, the Countess of Kent, where she received a formidable education in the classics of the kind that was usually available only to boys. She would always be grateful for this, calling the countess "the noble guide" of her youth, and throughout her life she was drawn to all-female communities of learning……. READ MORE HERE