I Believe in Unicorns by Michael Morpurgo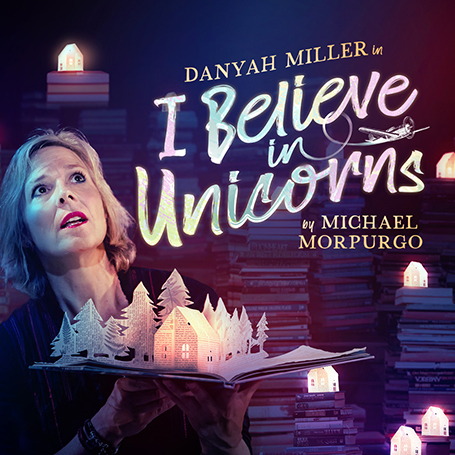 Performed at the apollo Theatre between 27 Jul, 2023 and 12 Aug, 2023
Award-winning storyteller Danyah Miller brings best-selling children's author Michael Morpurgo's treasured story to life.
This intimate show is set in a library full of books that hold more than stories within their pages. It is a tale of the power of books, and the bravery of 8 year old Tomas. Tomas hates reading and school, but his world is turned upside down the day he meets the Unicorn Lady in his local library…
An enchanting and interactive production, I Believe in Unicorns, which won an Argus Angel Award for Artistic Excellence at Brighton Festival, sparks imagination in both young and old. We challenge you not to believe in unicorns after joining Tomas' spellbinding journey.
'Danyah's performance is a tour de force. The show is moving and memorable, a glorious example of the magic of storytelling. I didn't like it, I loved it!'  Michael Morpurgo
'Keeping children in their seats takes magic and wonder, something I Believe in Unicorns has in abundance.'
Sunday Times
'Danyah Miller makes a welcome return with her spellbinding and highly acclaimed production'.
Theatre Weekly
'a wonderful hour of theatre for any child – and adult – who loves a good story.'
Theatre and Tonic
'Whimsical and uplifting, this heartfelt children's show is a loving adaptation of the book by celebrated author Michael Morpurgo.'
The Stage
'Young and old alike hang onto Miller's every word as she artfully tells stories.
Theatre Weekly
'Incredibly effective, the young audience is mesmerised'.
Theatre and Tonic
'Miller delivers a warm, mischievous and enthralling performance which demonstrates the power of expert storytelling'.
The Stage
'Beautifully crafted show that is utterly engaging from beginning to end.'
Theatre Weekly
'Miller is a wonderful storyteller, she isn't just standing on stage telling stories, she's also listening to her audience and making them feel a part of the play.'
Theatre and Tonic
'The story is told with great gentleness, but Parr's production never pulls its punches.' 
The Stage