LIZA PULMAN SINGS STREISAND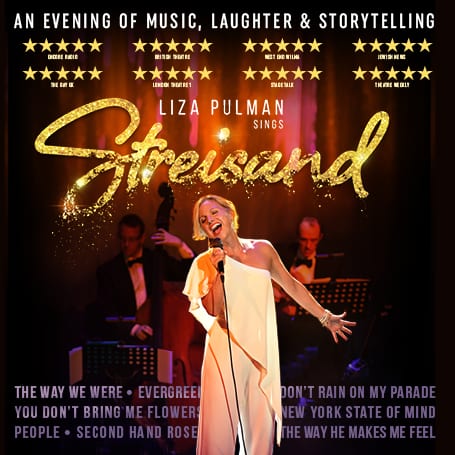 Performed at the lyric Theatre between 18 Mar, 2019 and 15 Apr, 2019
A must see for music lovers and Streisand fans everywhere, Fascinating Aida's Liza Pulman pays homage to one of the finest talents of a generation, squeezing history, warmth and humour into this critically lauded five-star triumph.
★★★★★ 'An evening of sparkling entertainment… A sound of Streisand with a large delicious slice of Liza' British Theatre
Direct from a sell-out run at The Other Palace, Liza's easy wit, flawless vocals & compelling storytelling will take your breath away, inspired by the offbeat and enchanting veracity of a musical legend.
Give yourself reason to smile this Spring.
Hits include Evergreen, People, New York State of Mind, The Way He Makes Me Feel, Don't Rain on My Parade, The Way We Were, Second Hand Rose, You Don't Bring Flowers and more!
'A world class show celebrating the wonderful music of Barbra Streisand'
Encore Radio
'Quite simply, superb... Liza Pulman is a force of nature'
British Theatre
'An evening of glorious entertainment… stories, anecdotes and a stunning 6-piece band'
West End Wilma
'Get your tickets booked, I promise you won't be disappointed'
London Theatre 1
'Amazing, her voice was truly wonderful'
Jewish News
'Liza has got style oozing out of her pores and a belting set of lungs'
The Gay UK
'Seldom has a standing ovation been better-earned... Catch it if you can!'
Stage Talk
'Completely immerses the audience from beginning to end'
Love London Love Culture
'Incredible performance delivered with humour, grace and class'
Theatre Weekly
'A night of sheer joy... Classy, warmly produced, exquisitely delivered'
Chris High Reviews