Walking With Ghosts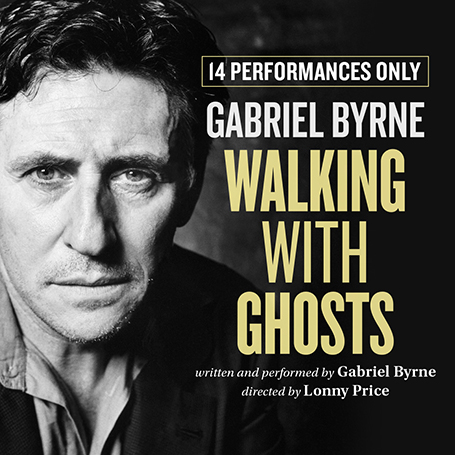 Performed at the apollo Theatre between 06 Sep, 2022 and 17 Sep, 2022
Walking with Ghosts
Written and performed by Gabriel Byrne
Directed by Lonny Price
★★★★★
'This enthralling show is one of Gabriel Byrne's greatest achievements.'
Daily Telegraph
★★★★★
'An effortless masterclass in storytelling'
The Stage
★★★★
'One of Ireland's finest performers at his best. A master of his craft'
Sunday Times
Legendary actor Gabriel Byrne (The Usual Suspects, In the Name of the Father, Miller's Crossing) makes his West End debut with a strictly limited 14 performances of his acclaimed solo show directed by three-time Emmy Award winner Lonny Price
★★★★
'Gabriel Byrne is on spellbinding form'
The Times
Moving between childhood memories of an Ireland that has almost vanished, to a commentary on Hollywood and Broadway stardom, Walking with Ghosts is by turns hilarious and heart-breaking, and a lyrical homage to the people and landscapes that ultimately shape our destinies.
★★★★
'Byrne's charisma is captivating throughout'
Financial Times
'A beautiful writer and wonderful physical comedian'
Guardian
A Landmark production
presented by Neal Street and Playful Productions

The Apollo Theatre operates with mitigation methods to help reduce the spread of COVID-19. For further information check our COVID-19 secure information page. If you or anyone in your party tests positive for COVID-19 we recommend you stay at home; we operate a 100% exchange guarantee up to 48 hours before your performance. Please contact boxoffice@nimaxtheatres.com and they will assist.